Have you noticed the new additions to the Dilly Dabbles Blog? Michelle of
The 3am Teacher
set me up with some great items to spruce things up a bit.
She added the fabulous navigation bar up at the top. Click the flowers to be taken to each section or link. Coming soon is the Themes page where all posts and freebies will be collected in an organized list of linked thumbnails.
Michelle also added threaded and numbered comments to the blog. They are way cute too. So now, the comments are threaded to more easily keep track of replies to specific comments and they are numbered too. Additionally, your pictures show up beside your comments.
I had the pleasure of meeting Michelle on a trip I took to Arizona last fall and she is a doll. She's everything she portrays on her blog. Go check out her blog and if you have a blog of your own, consider having Michelle add some spruce ups to your blog.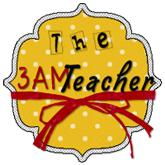 Try out the new comment section, leave me a comment on this post about the new look.