Brenda at Primary Inspired is the organizer of the blog study on Guided Math Conferences. If you don't have a copy, TpT seems to be the best place to get it right now. Amazon isn't stocking it yet.
I'm so grateful to be part of it and hosting Chapter 5 along with Carmen from Exploring Elementary. Be sure to go here to read her post about Chapter 5.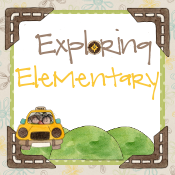 "Implementing Conferences in the Guided Math Classroom" is the title of Chapter 5 and it's all about how to make conferences happen in your classroom. Here are some of the suggestions Ms. Sammons makes for when to conference:
As students enter the classroom

While students are working independently

During transitions

Just before or just after meeting with a small group (Bring one child back a little early or have one stay a little longer.)
I'm thinking mine will most likely take place in the first 5-10 minutes of math class as students work on the math starter for the day and get settled. We group and rotate for math, so this seems like a good time for me to fit it in.
I LOVE the section where she addresses how often to meet with students and the idea of "fairness". We need to remember that doing what's right for each student does not mean doing the same thing for each student. Some students will require more conferences, either to challenge higher students or to support lower students. Some students are so self-regulating they'll need little guidance or prodding from us. Know your students well enough to know how much conferencing each needs.
A large portion of this chapter is devoted to procedures and routines with independent work. In order for you to be successful at having time for conferences, students must be able to work independently with only emergent interruptions to you. She even mentions the book Boushey and Moser's book Daily 5: Fostering Literacy in the Elementary Grades
as a reference for teaching routines and procedures. I love how these ladies outline teaching procedures. Their book is well worth the read just for that. It perfectly outlines gradual release and turning all responsibility to students during independent time thus freeing you to confer with students and work with small groups.
It is imperative that you write down or have a very firm understanding of what your expectations are so you can clearly teach them to students and hold student to them. Take your time at the beginning of the year to make sure students are independent before rushing into content. Content can be taught while working on expectations and routines, just make the content secondary for the first few weeks. You'll be glad you did when you're able to teach more effectively later in the year rather than continually spending time reviewing and being frustrated about behavior later in the year.
I use the ideas from The Daily 5 to teach independence routines in my classroom, how do you teach independence? Feel free to add your comments to this post or link up your own post below.