I've been busy attending the UCET (Utah Coalition for Educational Technology) Conference this weekend and haven't posted for a few days. Don't worry, I'll post some of the tidbits I learned while I was away over the next few weeks.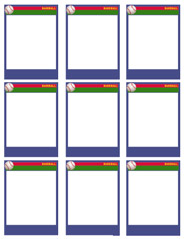 I wanted to share with you what I did (well what I planned and the substitute did) with my class and other students on Friday to celebrate Read Across America Day. In the morning the entire school was cross grade grouped (K-6) into groups of about 17 students. Students were given "passports" and they toured the U.S. "Reading Across America." Every adult in the building represented a state and shared a book and an activity that somehow related to the state. Students rotated 5 times, to visit 5 different states. Each rotation lasted 20 minutes. It's a little crazy, but a lot of fun. I chose to represent Georgia. I lived there for 2 years. I discovered that Jackie Robinson was born in Georgia, so I focused on baseball. I introduced a few facts about the state and then introduced Jackie. Then read this great book
Teammates
to the students and discussed it. Then, each student created their own baseball card using this
fun template
. Students drew a picture of themselves on the front and then wrote their "stats" on the back such as name, age, grade and hobbies. I don't have pictures since I wasn't there, but I think it went well.